Sublimating on the Tumbler is an easy but lengthy process. It is a common concern of people whether they can sublimate on a spray-painted tumbler or not.
So, can you sublimate on spray painted tumblers?
Yes, Sublimation on a spray-painted tumbler is possible. But there are some things you need to keep in mind. First of all, choose materials wisely, plastics and stainless steel tumblers are good for sublimations. The color of your tumbler is also important in sublimation. But the main thing is it needs to be poly-coated before starting the sublimation process.
So stick with us. We've conducted a very detailed analysis below!
Can You Sublimate On Spray-Painted Plastic Tumblers?
Yes, you can sublimate on a spray-painted plastic tumbler. But there is a condition, you must have a light color tumbler like white, cyan, or silver. When it matches your Tumbler color, check whether the Tumbler materials are compatible with the sublimation. 
Before starting the sublimation process apply poly-coating to your tumbler. Because the sublimation process is only applicable in the poly-coating tumbler. Additionally, during sublimation on a plastic tumbler, sublimation paper can be stacked.
Can You Sublimate On Spray-Painted Stainless Steel Tumblers?
Yes, the Stainless steel tumbler can be sublimated. Sublimation is the process of applying heat and pressure to a substrate in order to transfer dye onto it. Sublimation coatings can be applied to stainless steel, making it suitable for dye transfer.
So Before starting the sublimation on stainless steel, need to prepare the tumbler first.
The first thing you need to do on almost all of the stainless tumblers is to spray paint them. You can buy powdered or colored stainless steel mugs, but it's also super easy to paint them yourself.
Before starting the sublimation process apply poly-coating to your stainless steel tumbler. To transfer the design to the coated stainless steel, it is placed in a heat press along with the sublimation paper.
Sublimation on stainless steel creates a design that is not only dishwasher safe, but also long-lasting, and sturdy.
The paint dry time in stainless steel is lower than the other materials. It can be dry within 10 minutes if the painting coat is thin. However, it can take up to 24 hours for the paint to fully dry.
Can You Sublimate On Spray-Painted Ceramic Tumblers?
Yes, you can sublimate on a spray-painted Ceramic tumbler. Basically, the coating will allow you to coat any hard surfaces and turn them into the sublimation-ready substrate. That means you can easily sublimate on Spray-painted tumblers.
To make a glitter tumbler, the first thing you need to do is spray paint your tumbler. 
It is not required technically, but you can do it for these better outcomes,
Painting gives the glitter a better grip on your tumbler.

Painting your tumbler will really make the glitter pop, producing a more exciting finished product.
How to Sublimate on Spray-Painted Tumbler
Below are step-by-step guidelines, so that you can easily sublimate on the spray-painted tumbler.
Supplies You Need to Make Sublimation Tumblers:
Below are the necessary supplies you need during sublimation on spray-painted tumblers. Before starting the sublimation process it needs to ploy-coating on your tumbler. Here are the necessary supplies for poly-coating on your tumbler. 
Supplies During Poly Coatings:
Mug Press

Polyglots 

Catalyst

Tumbler

Painter's tape

Paintbrush

Plastic jar

Parchment paper

Turntable

Spray tent
Supplies During Sublimation:
After poly-coating your tumbler it needs to few times to start the sublimation process. Below are the necessary supplies for the sublimation process.
Sublimation Ink:
Cricut Infusible Ink Transfer Sheets 

Infusible Ink Markers 

Siser Sublimation Markers

Sublimation Ink for Printers 

Pre-Printed Sublimation Transfers
Heat Source:
Cricut Mug Press

Tumbler Heat Press

Craft Oven 
Laser Paper or Sublimation Paper 

Butcher Paper

Heat Resistant Tape

Heat-resistant gloves.
Below given the step-by-step process of sublimation on Tumbler.
Step 1: Prepare the Tumbler
Before starting the sublimation process you need to prepare your Tumbler. 
There are several kinds of tumblers in the market. We are working with plastic, stainless steel and ceramic tumblers here. 
There are several plastics colour tumbler are available in the market. But the stainless steel needs to paint for having your desired tumbler colour.
Below given the process of how to paint your Tumbler if your Tumbler is already painted you can move on to further steps.
You need to tape off the top of the tumbler with painter's tape. Because this is good practice so that your mouth doesn't touch the paint while you are drinking.
While spraying use a turntable and spray tent so that paint doesn't spread everywhere

Start spraying on Tumbler far from 12 inches then turn the table every few seconds until there is any default colour.
For more knowledge, you can see the video.
After spraying on the tumbler it needs 30 minutes to 24 hours to fully dry. 
You need to poly-coating your tumbler after completing the spray process.
Without poly-coating sublimation painting can be faded out after washing.
Below given the process of how to poly-coating on Tumbler.
To apply the poly-coating take the required Polygloss according to your tumbler.

The second thing is you need the catalyst. For the best use of it, take a syringe and add 1 ml catalyst.

Add the catalyst to the measuring cup, and mixed the Polygloss and the catalyst using a small stick.

Properly clean the tumbler, so that there is no dirt remaining.

Apply the poly-coating on the surface of the tumbler using a brush.

Take a plastic jar and cover the tumbler for almost 10 minutes.

After 10 minutes take off the plastic jar, and check whether the tumbler is dried or not.

If the jar is fully dried,  it with parchment paper and use a mug press at 320 degrees for 3 minutes.
For more information, You can check the video.
Step 2: Choose a Design
For the further sublimation process, you need to choose a design for your tumbler. It is good to use a self-made design for your tumbler. Which can make using software like Adobe Photoshop, Illustrator or Canva.
If you are not familiar with these, you can use any copyright-free images.
Step 3: Necessary Process Before Sublimation
After choosing a design you need to print the design. The below gives the printing process and another necessary process before sublimation.
Be careful about the mirror settings of the printer during the printing process. Wrong mirror settings can be destroyed your design.

Be careful while cutting the design. 

Set the design on the tumbler using heat-resistant tape.

Use safety gloves for safety purposes.
Step 4: Sublimation Process
In two ways you can complete the sublimation process,
Using a mug or tumbler press

Using a Convection oven
Sublimation With Mug Press:
Wrap the tumbler properly using parchment paper.

Place the tumbler inside the mug press machine for 60 seconds at 360 degrees.

After 60 seconds remove the tumbler from the machine.

Remove the parchment paper and sublimation paper. And your Tumbler will be ready to use.
For more information, you can see the video.
Sublimation with Convectional Oven:
Prepare the oven for your sublimation process.

Use a heat-insulating pad on the bottom of the tumbler to protect the surface from the sublimation dye.

You can use shrink wrap around the sublimation paper or you can band it.

If you are doing shrink wrap, don't forget to use a heat gun to wrap the shrink wrap and the sublimation paper together.

Heat the oven to 375 degrees for 6 minutes. While you are using shrink wrapping. If you are using silicon bands, wrap them using butcher paper before heating them in the oven.

Rotate the tumbler at 180 degrees halfway for a better result.

Use heat-resistant gloves during the whole process.
For more knowledge, check the video.
Besides these two options, you can sublimation on air fryer also.
FAQs
How to Fix Ghosting on Sublimation Tumbler?
Stopping the transfer of the paper while pasting the panel onto the paper is the easiest approach to avoid ghosting during sublimation on Tumbler. Any time air or air pressure gets below the transfer paper while it is still taped to the panel, ghosting might occur.
Do You Seal a Tumbler After Sublimation?
No! Sublimation-printed tumblers may be kept unsealed after printing. During the heating process, the sublimation ink becomes a permanent part of the tumbler's material.
What is better sublimation or heat transfer?
Each has its own advantages. With sublimation, the pattern will last through several washes and look great on white and another light-coloured polyester. Also, heat transfer paper is your best choice when working with materials that are already dark in colour.
Conclusion
So, Can you sublimate on spray painted tumblers? Yes, you can. If you meet the two-goal of, use a light colour and poly-coated tumbler. You are good to go to sublimate on spray-painted tumblers.
My discussion is over now. good luck and follow the steps properly to sublimate on spray printed tumbler.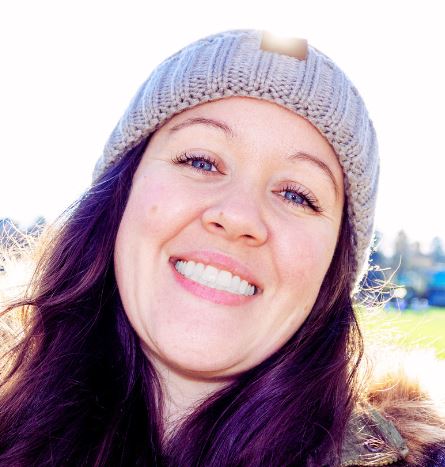 Emily loves making things special.
She's also a mom and a wife who enjoys crafting and runs a small business from her home. She knows that the little things can make a house feel like a warm and loving home. This belief has led her to explore the exciting world of sublimation, a crafty way to add a personal touch to just about anything. Her website shares valuable information about sublimation, her crafty ideas, and tips.