The air fryer, traditionally known for its culinary prowess, can also be a game-changer for sublimation enthusiasts! But not just any air fryer will do. 
After extensive research and experimentation, I have found the best air fryer for sublimation. 
The Ninja AF161 is overall the best air fryer for sublimation due to its customizable time and temperature settings. 
If you are used to sublimating large substrates the Innsky Air Fryer may be a good choice. 
For better portability and temp range, the Dreo Air Fryer would be optimal.
So, whether you're a seasoned pro or just starting out, buckle up and get ready to discover the ultimate tool for unlocking your sublimation creativity!
Best Air Fryer For Sublimation
Although air fryers weren't designed to sublimate, it can be even better than traditional methods in some cases. Therefore, I have chosen three of the best air fryers that are not only great for cooking but also great for printing.
But remember, you also need the best sublimation papers alongside a good air fryer. 
 Now, let's see which is the best suited for your sublimation needs.
Specs:
Product Dimensions: 11.4″ D x 14.2″ W x 14.3″ H

Color:

Black

Capacity: 10.6 Quarts

Material: Aluminum

Output Wattage: 1500 Watts

Item Weight:

6.8 Kilograms

Control Method: Touch

Model Name:

IS-AF001
Pros:
Fast preheat

360-degree heat circulation with rotation 

Auto-shut off energy-saving mode

Has non-stick coating

Temperature range upto 400 degrees Fahrenheit 
Cons:
Noisy while operating

No delay cooking timer

Difficult to clean
As an expert in sublimation printing, I have discovered that the Innsky Air fryer is a game-changer in the industry. Its exceptional features allow for precise control and optimal results for sublimation printing.
The main aspect that sets the Innsky Air fryer apart is its generous capacity, providing a spacious 10.6 quarts of space. I can easily accommodate larger sublimation materials, such as ceramic tiles or large textile pieces, without worrying about overcrowding or uneven heat distribution. 
The roomy interior of the fryer ensures that my substrates have enough space to lay flat and receive consistent heat from all angles, resulting in evenly sublimated prints with vibrant colors and sharp details.
The Innsky Air fryer's fast preheat capability is also one of its defining features. This allows me to start my sublimation process quickly and efficiently, saving me valuable time and ensuring smooth and seamless printing. 
360-degree heat circulation and rotation ensure reliable and consistent sublimation prints on a variety of surfaces. This eliminates the need for constant monitoring and rotation of the substrates, making my sublimation process more efficient and hassle-free.
Another environmentally-friendly feature of the Innsky Air fryer is its auto-shut-off energy-saving mode. This practical feature minimizes energy consumption, making it a responsible choice for eco-conscious individuals like myself. 
Additionally, the non-stick coating on the fryer basket prevents sublimation materials from sticking, preventing any damage or unevenness in the final prints. This ensures that my sublimation prints come out perfectly every time, without any imperfections.
The temperature range of up to 400 degrees Fahrenheit offered by the Innsky Air fryer is pretty decent for sublimation printing. It allows me to have precise control over the sublimation process, ensuring that the dyes transform from solid to gas state effectively. 
Best Temperature Range and Portability: Dreo Air Fryer
Specs:
Product Dimensions: 9.4″D x 11.6″ W x 9.4″H

Color:

Black

Capacity: 4 Quarts

Material: Stainless Steel

Output Wattage: 1500 Watts

Item Weight:

7 Pounds

Control Method: Touch

Model Name

DR-KAF002

Controller Type: Hand Control
Pros:
100°F-450°F temperature range, 

Compact & portable, 

Non-stick coating

Dishwasher safe and easy to clean
Cons:
Too small for sublimating larger materials

Prone to damage, needs careful handling
The extra temperature range of the Dreo will give an edge while sublimating different substrates. The extensive range of the temperature allows me a wiggling room to customize my sublimations however I want it. 
The Innsky Air Fryer is quite good and I am personally fond of it because of the space it offers but the Dreo Air Fryer exceeds it in terms of temp range. 
Temperature is key while sublimating and you already know it. If the proper temperature is not applied for the appropriate amount of time mishaps will happen. Like sublimation green will turn out as blue. 
Apart from it, the main difference between these two awesome air fryers is the size and capacity. Dreo is significantly lesser in size and capacity than Innsky, which could be a good thing if you do not sublimate huge objects. 
But what I love most about the Dreo Air Fryer is its compact and portable design. You can easily move it around your workspace, set it up in any location, and even take it with you to off-site events. This flexibility will allow you to create sublimation products wherever and whenever you want, without any restrictions.
And let's talk about that non-stick coating! It's a total game-changer. Gone are the days of struggling with transfer sheets sticking to the surface of my equipment. The Dreo Air Fryer's non-stick coating ensures that your designs transfer smoothly and flawlessly, every time. Plus, you don't have to worry about using any additional release agents, which will save you time and effort in your sublimation process.
Cleaning up after sublimation used to be a real pain, but the Dreo Air Fryer's dishwasher-safe and easy-to-clean design can make your life so much easier. You can just wipe away any residue which makes cleaning a breeze. 
Specs:
Product Dimensions

: 11″D x 14″ W x 14.75″ H

Color:

Grey with a High Gloss Finish

Capacity: 5.5 Quarts

Material: Plastic

Output Wattage: 1750 Watts

Item Weight:

11 Pounds

Model Name: AF161

Brand: Ninja

Voltage: 120 Volts

Control Method: Touch
Pros:
Programmable

Max temp 450 degrees Fahrenheit

Has non-stick coating

Dishwasher safe
Cons:
Expensive

Can be toxic

Requires more power
If you looking for an air fryer that is best in all aspects then I must suggest you check out the Ninja AF161. As a sublimation and air fryer aficionado, I must say that the Ninja AF161 Air Fryer is a true gem. 
With its programmable settings and a maximum temperature of 450 degrees Fahrenheit, it provides the ideal temperature range for various sublimation processes. The high temperature with the programmable control allows me to achieve consistent and vibrant sublimation results every time.
Like the other two air fryers, it is also dishwasher safe and has a non-stick coating. It prevents the substrates from sticking to the air fryer's surface and makes it easy to clean. Because of this, I can simply wipe off any excess dye or ink without any hassle.
As long as space is concerned, the Ninja AF161 has more space than the Dreo but almost half as much as Innsky. This air fryer is for you if you are used to sublimating moderate substrate sizes and don't mind spending a lot of money.
Air Fryer For Sublimation Buying Guide
Buying an air fryer for sublimation purposes can be very tricky because the method is unorthodox. So, the dealers may not be able to offer enough help. But no worries, I have explained here what you must look for while buying an air fryer for sublimation. 
Temperature:
When it comes to selecting an air fryer for your sublimation needs, temperature control is a crucial factor to consider. Seek out an air fryer that boasts precise temperature control capabilities, allowing you to dial in the perfect temperature for your sublimation projects. Look for models that can reach high temperatures, typically up to 400°F or higher, as this temperature range is ideal for sublimation to occur effectively.
Having precise temperature control is essential to ensure that the sublimation process takes place optimally, resulting in vibrant and durable prints on your substrates. Depending on the type of material you are using, the size of your project, and the type of sublimation inks you are using, you can customize the sublimation process.
Also consider air fryers with variable temperatures, as this versatility can allow you to experiment with different substrates and achieve the desired results. 
It's even possible to get air fryers with pre-set temperatures specifically designed for sublimation, which can save time and effort when finding the right temperature.
Size and Capacity:
Think about the dimensions and capacity of the air fryer when choosing one for your sublimation needs. Consider the size of the items you plan to sublimate and ensure that the air fryer has enough space to comfortably accommodate them.
The size of the air fryer is important as it determines the maximum dimensions of the substrates or items you can sublimate. You'll need an air fryer with a spacious interior if you want to sublimate large items like blankets, rugs, or apparel.
On the other hand, if you primarily work with smaller items like mugs, phone cases, or small apparel pieces, a smaller air fryer may be more suitable.
The capacity of the air fryer also matters as it affects the number of items you can sublimate at once. If you have high production requirements, you may need a larger capacity air fryer that can accommodate multiple items simultaneously. 
If you have a smaller workspace or fewer production needs, it might be more efficient and time-saving to consider opting for a smaller air fryer. This way, you can maximize the space available and optimize productivity.
Air Flow:
Sublimation is greatly influenced by airflow in an air fryer. It's important to choose an air fryer with robust, consistent airflow when selecting one for your sublimation project. In order to achieve uniform sublimation results, you need to ensure an even distribution of heat.
When using an air fryer, airflow refers to the way air moves throughout the cooking chamber. An air fryer with strong and consistent airflow ensures that hot air is evenly distributed throughout the entire cooking chamber. As a result of this even heat distribution, sublimation ink is vaporized uniformly, resulting in consistent and vibrant prints that are free of patchy or uneven surfaces.
Timer:
Choosing an air fryer that fits your specific needs should include the timer function when selecting one for sublimation. Some air fryers may have a simple manual timer that requires you to set the time using a dial or buttons. Others may have more advanced digital timers with precise minute and second settings. 
Thus, you should choose an air fryer with a timer that gives you the level of precision you need for sublimation.
Energy Saving:
Energy-saving features are another important factor to consider when selecting an air fryer for sublimation purposes. 
Lower-wattage air fryers consume less energy, and those with energy-efficient cooking modes can help minimize energy consumption while still achieving desired results. Air fryers with timers and auto shut-off features can prevent unnecessary energy waste. 
Furthermore, insulated bodies can help retain heat effectively, reducing the need for the air fryer to work harder and consume more energy. 
Non-Stick Coating:
Sublimation involves heat and pressure, which can sometimes cause the printed design to stick to the surface of the basket or tray during the process. This can result in smudging or tearing of the sublimated print, leading to undesirable outcomes.
It is possible to prevent such issues by coating the basket or tray of the air fryer with a non-stick coating. The non-stick coating creates a smooth and slippery surface that allows the sublimated items to be easily removed without sticking, ensuring that the printed design remains intact and undamaged.
Select an air fryer with an easy-to-clean and durable nonstick coating when using it for sublimation. Consider the type of coating used, such as ceramic, Teflon, or other proprietary coatings.
As I have said before, pay attention to other accessories, such as sublimation papers and inks. Moreover, choosing the best sublimation inks will surely make a big difference. 
Frequently Asked Questions (

FAQs):
What material cannot be used in air fryer?
Plastic isn't designed to handle the high heat that air fryers generate, so it can melt or release harmful chemicals into your food. It's important to avoid using plastic in your air fryer to ensure safe and healthy cooking.
How much electricity does an air fryer use?
On average, an air fryer can consume around 3-5 kWh of electricity per hour of use. However, keep in mind that this can vary depending on factors like the size and model of your air fryer. So, it's always a good idea to check your specific air fryer's energy usage details in the user manual.
Will I save electricity with an air fryer?
Yes, you will save electricity with an air fryer. Air fryers are known to be more energy-efficient compared to electric ovens, which can help you save on electricity costs. They tend to use less electricity to cook food, thanks to their smaller size and faster cooking times.  
Conclusion
Considering factors such as size and capacity, airflow, timer function, and non-stick coating can help you find the best air fryer for sublimation. 
Although an air fryer is not the best tool for sublimation, a good one can do the job for you regardless. If you can follow the step properly you may not even notice the difference. 
Happy sublimating!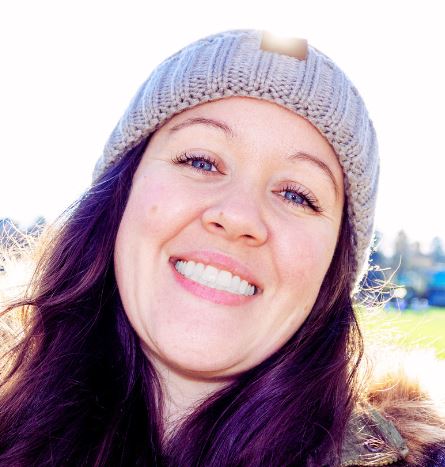 Emily loves making things special.
She's also a mom and a wife who enjoys crafting and runs a small business from her home. She knows that the little things can make a house feel like a warm and loving home. This belief has led her to explore the exciting world of sublimation, a crafty way to add a personal touch to just about anything. Her website shares valuable information about sublimation, her crafty ideas, and tips.