Sometimes, during the sublimation process, when you pull up the heat press, you may notice a small amount of fumes or steam. It's normal to get concerned about your health and safety when this happens.
So, are sublimation fumes harmful? 
Sublimation fumes are harmful and can cause health hazards if you use low-quality sublimation ink and cheap sublimation plastic. The health hazards include respiratory and eye problems. This happens due to the volatile organic compounds (VOCs) compounds present in the sublimation ink. To reduce the risks, you should install proper ventilation, use high-quality ink, and wear masks. 
To know about the risks associated with sublimation fumes in detail and the detailed way to reduce them, keep reading.
Are Sublimation Fumes Harmful?
Although there is only a small amount of fumes produced, sometimes, it still can be harmful to inhale. High-quality sublimation ink should not cause any problems. But if you use cheap sublimation ink and plastic, the fumes produced by those can be hazardous. 
So, are sublimation fumes toxic? Yes, these fumes can be toxic. 
The inks used in sublimation printing contain volatile organic compounds (VOCs). For example, vinyl chloride-vinyl acetate copolymer, N-butyl acetate, and 2-methoxy-1-methylethyl acetate.
In cheap and low-quality sublimation inks, there is enough of these elements to cause harm to your body. 
The fumes produced by these components can cause the following problems. 
Breathing in VOC smog can cause respiratory problems. It can also cause coughing, wheezing, shortness of breath, and chest pain. So, if you were thinking,

is sublimation safe to breathe

, no, it's not entirely safe. 

Exposure to VOC fumes can cause headaches, dizziness, and fatigue.

Inhaling high levels of VOC fumes can cause nausea and vomiting.

The fume can cause eye irritation, redness, itching, and tearing.

Long-term exposure to these fumes can increase the risk of heart disease, stroke, kidney damage, damage to the central nervous system, and even cancer.
You might not face a serious problem as the fumes produced in the sublimation process are not inhaled for a long time. But there is still a chance to face short-term problems. 
How To Reduce The Harmfulness Of Sublimation Fumes? 
To minimize the harmfulness associated with the sublimation fumes, you can take the following steps. 
1.

Use High-Quality Sublimation Ink:
Use high-quality sublimation ink to minimize the harmfulness of sublimation fumes. The high-quality ink is formulated to contain fewer volatile organic compounds (VOCs) than lower-quality ink. It means that it will produce fewer harmful fumes during the sublimation process.
Here is some good-quality sublimation ink.
| | | |
| --- | --- | --- |
| Product  | Feature | Compatible with  |
| Koala Sublimation Ink | This Anti-UV formulated sublimation ink is very high-quality and there will be no toxic fumes.  | ET2720, ET2750, ET2760 WF3540, ET7720, WF3520, WF3640 WF3620, ET7710, C88 C88+, etc. |
| Super-Sub SUQ SBR 300 ink | This high-quality sublimation ink is toxic-free, it also provides a highly sharp color in the substrate.  | Brother DCP-T300, DCP-T310, MFC-T800W, DCP-T510W, DCP-T500W, MFC-T910DW and MFC-T810W etc.  |
| InkXPro True Color Sublimation Ink | It's A high-quality, non-toxic sublimation ink that is a  safe option for sublimation printing. | C68, C88, C88+, WF 3620. WF3520, WF7520, WF3640, WF3540, and WF7510 |
| Unlimited Ink Sublimation Ink | This brand provides vibrant and permanent colors for your sublimation project.  | Virtuoso SG400, Ricoh 3110DN, 7100DN, SG800, 3110DNW |
Also, you should choose high-quality material including the best paper for sublimation to reduce the fume toxicity. 
2.

Wear Personal Protective Equipment:
When working with sublimation printing, wear personal protective equipment (PPE) including masks and goggles to protect yourself from any harmful fumes.
3.

Ensure Proper Ventilation:
Do you need ventilation for sublimation? Of course, you do. Make sure that the sublimation printing is done in a well-ventilated area.
This will help to prevent the accumulation of any harmful fumes that may be produced during the process. Here are some tips for you.
Choose a room with windows that can be opened or a space that has proper ventilation systems installed, such as an exhaust fan.

You can keep the door open if possible for better air circulation. 

A portable air purifier can be used to help remove any harmful fumes from the air. This is especially useful if working in a small or enclosed space, where it may be difficult to ensure proper ventilation. Also, many portable air purifiers have aromatherapy features. It can also help reduce the Neoprene stinks during the sublimation process. 

If possible, use a fume hood while sublimation printing to help reduce the number of harmful fumes that are released into the air. 
Here are some fume hoods and air purifiers you can check out. 
4.

Set Proper Sublimation Machine Temperature:
When performing heat transfer using a sublimation machine, make sure that the temperature of the machine is properly set for the specific substrate being used. 
If the temperature is too high or too low, it can cause the production of fumes during the transfer process. Here is the appropriate temperature for common sublimation materials.
| | |
| --- | --- |
| Product | Temperature  |
| Polyester fabric | 200 to 205° C |
| Ceramic plate | 190 to 200° C |
| Ceramic mugs | 190 to 200° C |
| Metal tumbler  | 160 to 170° C |
| Neoprene fabric (vapor foam kit, mouse pads, coasters) | 200 to 205° C |
| Metals (Phone covers, keyring, metal plates) | 190 to 200° C |
Using the right temperature is also important to reduce basic sublimation problems. For example, stuck sublimation paper on a tumbler. 
This is how the risks of sublimation fumes can be reduced. 
FAQ's
Is Sublimation Safe for Kids?
Yes, sublimated products for kids including t-shirts, bibs, water bottles, and pencil boxes are safe for kids. However, you should keep children away from the sublimation device during the operation as the fumes can be harmful to kids.
Are Sublimation Mugs Safe To Drink From?
Yes, sublimation mugs are safe to drink from as long as they are made from food-grade materials. The sublimation itself doesn't make the mug unsafe as the polymer coating on it prevents the ink from leaching into the drink.
What Are The Disadvantages Of Sublimation?
One of the most significant disadvantages of sublimation is, that you can't print it on a black or dark colored surface. Also, the sublimation colors are not permanent and the color starts wearing out within 5-6 months due to the UV ray. 
Conclusion 
I hope I could answer your question: Are Sublimation fumes harmful or not? No matter if you are doing sublimation projects as a hobby or regularly as a profession, safety always comes first. 
If you notice any irritation in your nose, eyes, mouth, or skin during the sublimation process, immediately consult a doctor. 
That's all for now. Have a nice day and be safe!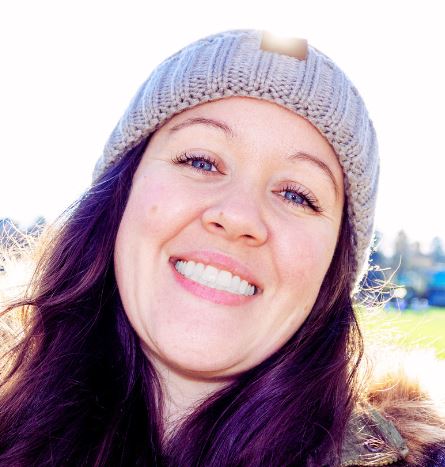 Emily loves making things special.
She's also a mom and a wife who enjoys crafting and runs a small business from her home. She knows that the little things can make a house feel like a warm and loving home. This belief has led her to explore the exciting world of sublimation, a crafty way to add a personal touch to just about anything. Her website shares valuable information about sublimation, her crafty ideas, and tips.