Sublimation printing has become a lot popular in recent times. However, with 100% cotton the process gets a bit challenging and in some cases confusing. 
Subli Flex 202 gives the best result for sublimation in terms of drying time, weight and print quality. 
A Sub Sublimation Paper 125G is a good option for consumers looking for a fast drying time. 
Hiipoo's paper is the best budget-friendly option available out there. 
Don't worry, with our expert research we have brought down the list to the top three choices of sublimation paper, to help you get the highest quality printing for the fabric. To know about this and the buying guide, let's get started.  
Top Sublimation Paper for Cotton
The table below shows the best sublimation paper for cotton fabric along with their distinctive features. 
Subli Flex 202: Best Sublimation Paper for Cotton

Specs:
Paper Finish: Glossy, Matte
Sheet Size: 8.5 x 11 inches
Material Feature: Biodegradable
Pros:
Comes with good color finishing

The paper is wash-resistant, so the printing will be less likely to come off

Incorporates good stretchability
Cons:
The paper material is extremely elastic

Most costly product on the list
Subli Flex 202 is the best sublimation paper for 100% cotton fabric. The reason for this is the quality of the print and the overall paper feature. Users found it to have a good color finish. In fact, we noticed how easy it is to transfer the print to the fabric. 
We observed that if you use sublimation ink, just a regular ink-jet printer will be enough to transfer the ink to the paper. This paper is suitable for both light and dark-colored cotton t-shirts. 
But the impressive feature we believe is its washability. You may be worried if the sublimation print gets washed out or not. With Subli Flex 202 you do not need to worry about anything like that. It can withstand over 50 times of washing without any effect on the overall print quality. In fact, most of the users were satisfied with the washability. 
However, with around $3.30 per sheet, we believe that this product is quite costly. So, if you are starting out with using the sublimation paper on cotton fabric and want the best product then go for Subli Flex 202 but keep in mind its cost. 
A Sub Sublimation Paper 125G: Best Sublimation Paper for Fast Drying Time
Specs:
Paper Finish: Coated
Sheet Size: 8.5 x 11 inches
Brightness: 80 Lumen
Pros:
Comes with an extremely fast transfer rate

Offers vibrant color patterns on the fabric

The paper is easy to use
Cons:
Can be used only on inkjet printer

Not the best option for dark-colored fabric
A Sub Sublimation Paper 125G is another good option in this list. It is a heavy one weighing around 125g. In that case, you do not need to worry about the ink pattern and capacity it can hold. Of course, with heavy paper weight, it will be better to handle ink and offer a vibrant color on your fabric.
We found that its drying time is the best feature of this paper. Because it takes seconds to dry out once you put the heat press over it. Beyond that it comes with a transfer rate of over 98%. Although in this case it similar to Hiipoo sublimation paper. 
So, that means anything you want to put over the cotton fabric, the paper will transfer both quickly and in the most efficient manner. So, you are guaranteed to get vibrant color with this product.
But it slightly lags behind in dark fabric. If you are using a dark cotton fabric then you will not get the best result with A Sub. But if you regularly use light fabric, then it is easy to use and delivers good results.
With only around $0.20 per count, this is a very affordable product and we think anyone who is willing to buy quality sublimation paper for their cotton fabric should go for this. 
Hiipoo Sublimation Paper: Most Affordable Option:
Specs:
Paper Finish: Smooth
Sheet Size: 8.5 x 11 inch
Material Feature: Biodegradable
Pros:
Good transfer rate

The product is easy to use

Comes with wide applicability
Cons:
Has problems related to ink capacity and pattern
Hippo Sublimation Paper is another good option which comes with 98% transfer rate. Overall, we also found that the product is easy to use and takes less time to transfer. Just like all the other products in this list, you need a sublimation ink and inkjet printer for this paper. 
With only around $0.17 per quant and smooth printing option, we think that Hiipoo Sublimation paper is a great choice if you are starting out with sublimating. It is easy to use and the finishing on the fabric is good. 
How to Choose the Best Sublimation Paper for Cotton? 
Choosing a good sublimation paper for 100% cotton fabric is a challenge. In fact, most of the sublimation paper in the market is either for polyester or made for fabric with less than 30% cotton. 
That is why you may want to use heat transfer vinyl to design over your 100% cotton fabric. However, if you want to go for a sublimation paper anyway then you need to keep in mind a few points. 
Paper Weight:
Paper weight is the most important feature of a sublimation paper. It signifies the thickness of the paper and it is relevant to the overall quality of the print on your fabric. Normally, the heavier the paper, the better the saturation will be.
In most cases, you will find the paper weight on its specs. However, for cotton or any fabric a good range of weight should be from 90 g to 125 g. Normally, if you regularly work with highly saturated color projects then you are better off choosing a heavy paper weight of 120g or 125g. 
You can also go for lower-weight paper, this Sublimation Paper: What's Best, What's Worst, and Why Paper Weight Matters! is a good guide to know more about that. But always remember that as the weight becomes lower, it will be more affected by the humidity. 
Ink Capacity and Limits:
Ink capacity and limits are directly related to the paperweight. Normally, this shows the capacity of the paper to handle ink. The heavier the paper, the more will be its capacity to handle ink. With handling we mean accepting moisture without any disturbances like curling and warping. You don't need to worry about sublimation fumes, if the paper can handle the ink properly. 
Ink Pattern:
Not all papers have the ability to withstand all kinds of patterns. In some cases, you will need paper that can properly handle both heavy and light ink input. For that purpose, normally paper with a weight over 110 g will work fine. Again, the paperweight is directly related to how the paper can handle the ink pattern.
Humidity:
Humidity is not directly related to the paper but rather to your work environment. If you work in an environment where the humidity is regularly under 45% then go for lightweight paper around 80 to 90g. The purpose is to avoid the hunching up. Similarly, for higher humidity you should choose heavier sublimation paper. This is to avoid a damp and unnatural mix-up of colors in the fabric. 
FAQs
How Long Should Sublimation Paper be Pressed at a Cotton T-Shirt?
You should press the sublimation paper on the cotton T-shirt for about 15 to 20 seconds. While you press it, make sure to keep the temperature at 320 degrees Fahrenheit. After you are done pressing, gently remove the paper and then you will get to enjoy the new design on the cotton T-shirt.
Can Sublimation Paper Be Used on Both Laser and Inkjet Printers?
Yes, sublimation paper can be used on both laser and inkjet printers using normal ink. Sublimation does not use any liquid ink in any process, it directly vaporizes the ink, transfers it to the fabric, and then solidifies again. All you need to do after using the printer is to put the sublimation paper on the fabric, press it with the heat press and then peel it away. 
Is Sublimation Paper the Same as Heat Transfer Paper?
No, sublimation paper is not the same as heat transfer paper. Sublimation paper is used to make the ink become part of the fabric. However, heat transfer paper just adds a layer of ink on top of the fabric. When it comes to using in 100% cotton fabric, it is better to opt for heat transfer paper rather than sublimation paper. 
Conclusion
Finding the best sublimation paper for cotton can be a challenging task. However, keep in mind the paperweight, transfer quality, and ink pattern to get the best product for your fabric.
Before you go on to make the final decision keep in mind that ultimately the choice of buying the sublimation paper will depend on the specific needs and preferences of the user.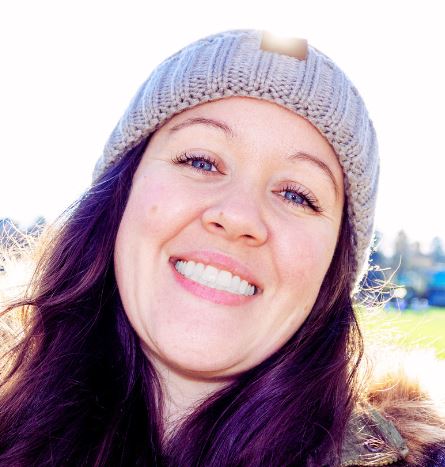 Emily loves making things special.
She's also a mom and a wife who enjoys crafting and runs a small business from her home. She knows that the little things can make a house feel like a warm and loving home. This belief has led her to explore the exciting world of sublimation, a crafty way to add a personal touch to just about anything. Her website shares valuable information about sublimation, her crafty ideas, and tips.